How do you brush a paper horse? The delicate restoration of a 150-year-old Auzoux model
Ghent University Museum (GUM) and Ghent University look after a valuable heritage collection, keeping a close eye on the condition of each piece. From time to time, a piece in poor condition requires restoration to ensure that it continues to be enjoyed by future generations. For the opening of the new museum, GUM has restored one of the showpieces of its permanent collection: a nineteenth-century anatomical model of a horse, made by French doctor Louis Auzoux. In her report, Studio Papier's restorer Eliza Jacobi gives us an exclusive view behind the scenes of the restoration process.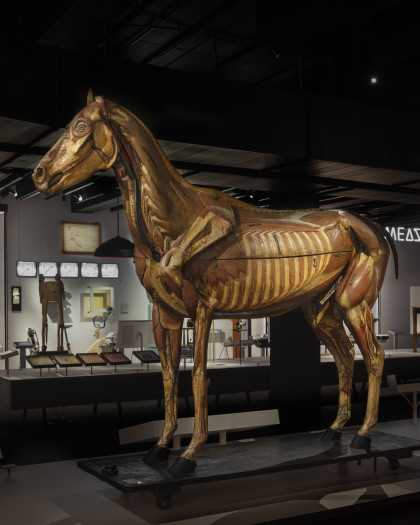 Towards the end of 2019, I was given the opportunity to work on a particularly beautiful project: the restoration of a paper horse! More specifically, the restoration of a papier mâché anatomical model of a horse. This beautiful model was made by the nineteenth-century French doctor Louis Auzoux. After having been used as an educational model for many years, the model ended up in the academic collection of GUM and Ghent University. There, it was given a new lease of life as a showpiece in the permanent collection. First, however, it required thorough restoration. This is how Auzoux' beautiful horse ended up on my restoration table.
Dr Auzoux's secret
Dr Auzoux (1797-1880) became world-famous thanks to his beautiful human and animal models that can be fully dismantled. He was the first to use papier mâché on such a large scale. This hard and sturdy material allows you to build models made up of individual parts. Unlike wax, for example, it is also quite resistant to heat and distortion.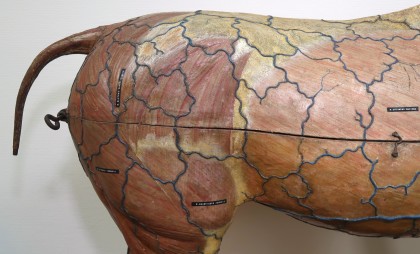 When putting such paper samples under a microscope, it soon becomes clear to the restorer that Dr Auzoux did not simply use pure papier mâché, but rather a mixture of torn pieces of paper, starch, chalk, hemp and cork powder. This paste was put into moulds, pressed and dried. He then treated the surface of each part with layers of pigments, using fish glue as a binding agent. The many layers of pigment and fish glue allow for the faithful reproduction of skin, muscles and veins. The veins, as seen on the GUM model, are made of iron wire wound with flax fibre and painted paper strips.
A horse in pieces
At a first glance, the horse consists of 14 removable parts. The upper half of the body can be opened using hinges at its tail. Inside the abdominal cavity, I found its internal organs neatly in place. Following further exploration, I removed the organs from the abdomen one by one. I was also able to detach the left foreleg and head. As is customary with Auzoux's models, all of the parts appeared to be numbered. These numbers could be used to look up the horse's individual body parts in the accompanying booklet, which has unfortunately been lost.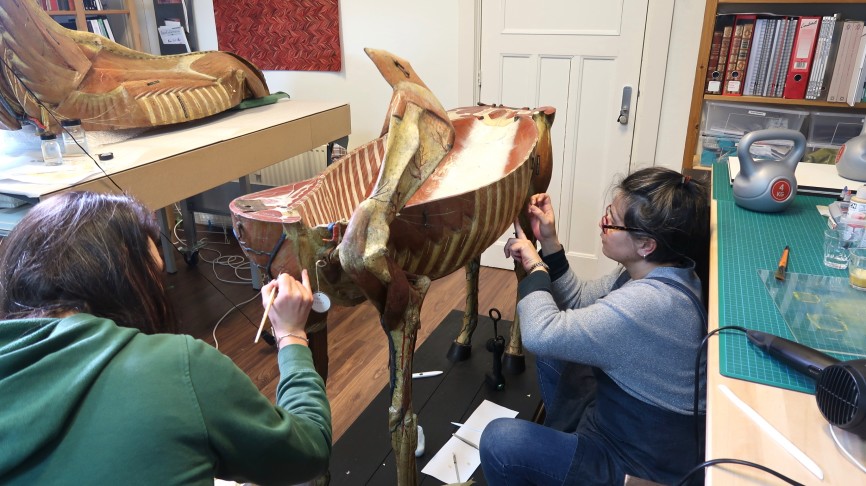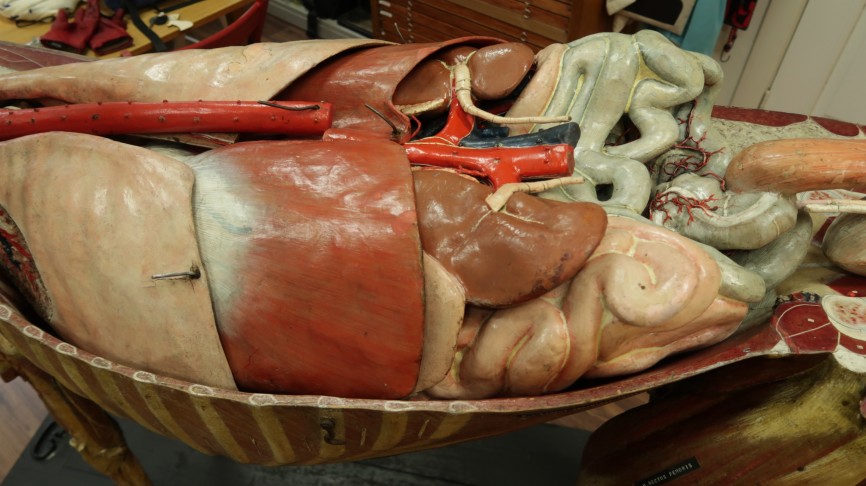 A Trojan horse
The model was covered by a thick layer of dirt and dust. The horse's beautiful paintwork had flaked in certain places, while it had disappeared completely in others, revealing the paper layer underneath the surface. The veins on the outside of the abdomen were damaged, while some had become partially detached. I also discovered that dust and dirt had piled up inside the horse's abdominal cavity, covering all of its internal parts! It appeared that the model had been left open for a prolonged period of time or that the organs had at some stage been individually displayed. It was clear that the horse's conservation and restoration would prove a major and delicate task.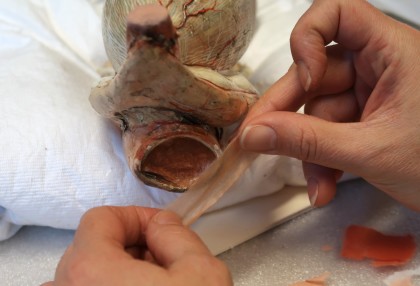 The restoration
I recruited a number of very talented colleagues: Claire Phan Tan Luu, Ilse Korthagen and Françoise Richard. We began the conservation process by removing the loose dust and other dirt on the model's outer surface, eventually using a vacuum cleaner with an attachment and a brush. We then gave it a wet clean using sponges and brushes, using ice water so as not to dissolve the gelatin (fish glue) or varnish layers. In doing so, we managed to get the model clean and give it back its beautiful matte finish. This water-based cleaning method would, however, only work for the model's outer surface. The viscera inside would simply prove too dirty. A more intense cleaning method was therefore required. After some tests, our team opted to use a gel solution containing ethanol. This worked brilliantly.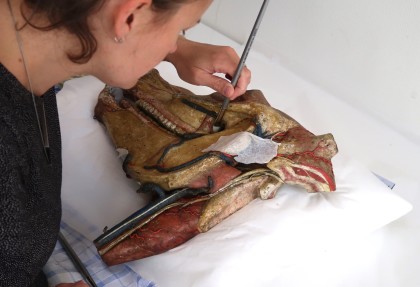 We also fixed any loose chips using an adhesive mix. We filled in the missing paintwork using paper pulp, which we then finished with a layer of Japanese paper. Certain other places would only require the application of Japanese paper, which was then coloured in. Where we had applied paper pulp, we used subtle watercolours to ensure it didn't stand out.
Under our care, Auzoux's horse was slowly brought back 'to life'. Dull colours are now sparkling again and lost structures have become visible once again.

Science and beauty
Today, you can admire Auzoux's horse at GUM. It's proudly standing on the central table of the theme 'MODEL'. On an adjacent interactive screen, you can virtually take the horse apart and have a closer look inside. This horse is an example of how scientists build simplified models of reality, while also proving that science can sometimes be a form of art.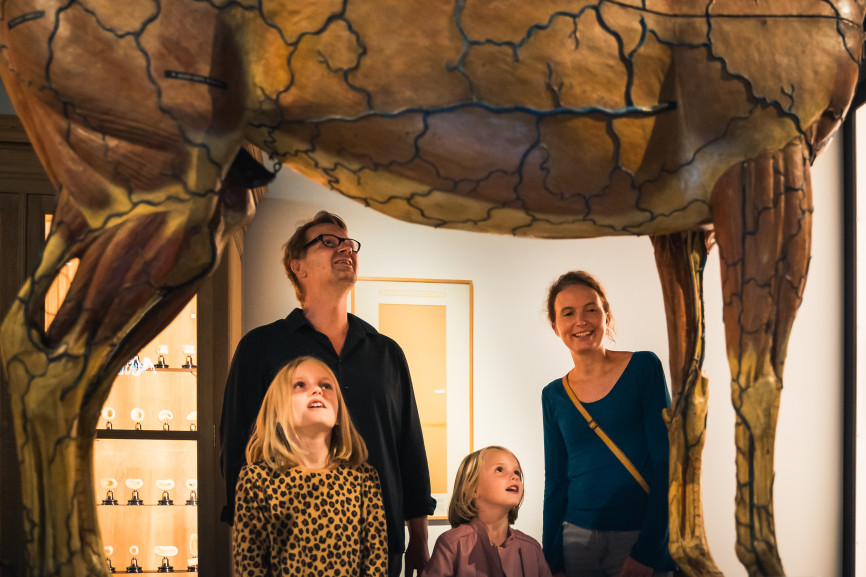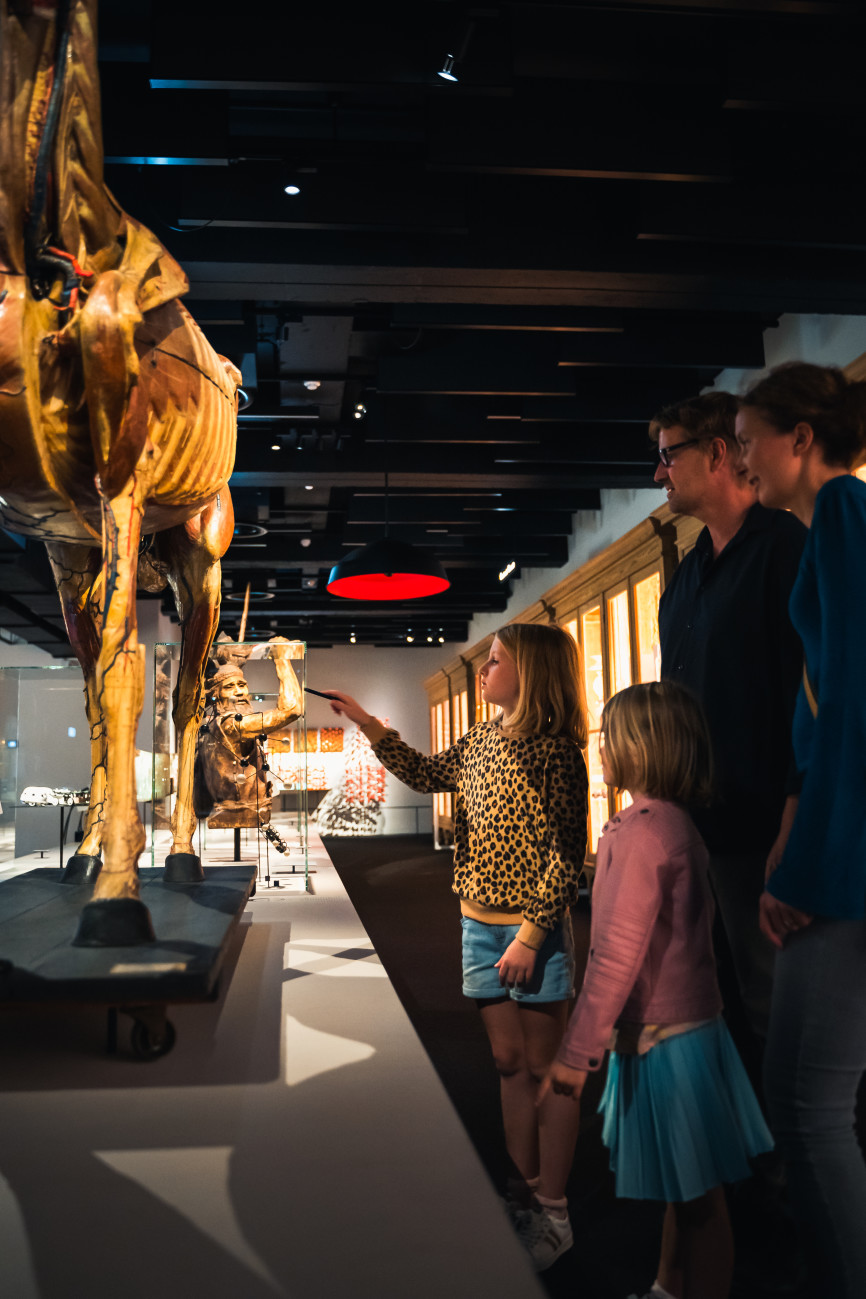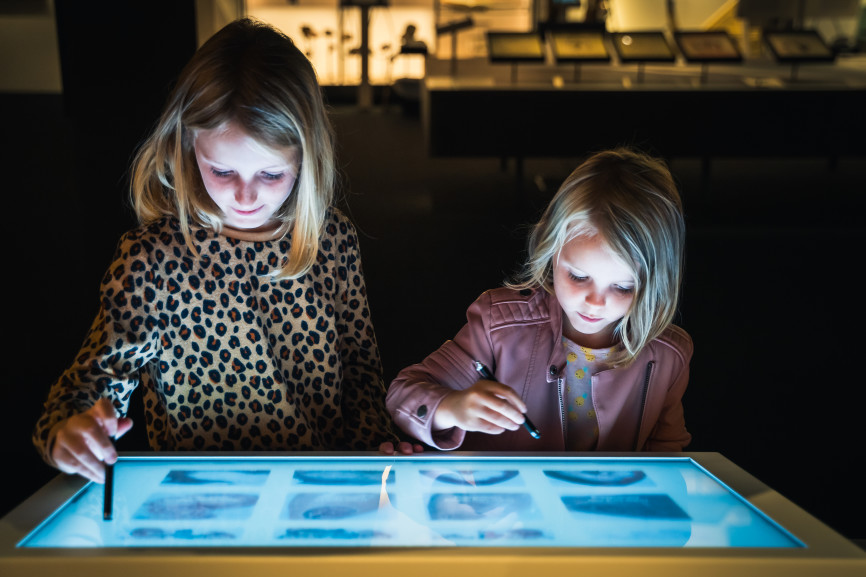 Photos:
Karin Borghouts (scenographic horse photography)

Eliza Jacobi (restoration photos)

Martin Corlazzoli (visitor photos)