The most recent collection, and one of the most active
The morphology collection is more recent than the other collections at the GUM. Its history begins in 1933, with the establishment of the Ghent Veterinary School. The collection is still actively used for teaching purposes at the university and continues to expand. The most famous inhabitant of this collection is the skeleton of Leo the finback whale.
To illustrate their lessons, the faculty's anatomists and pathologists began to preserve domestic and livestock animals. Veterinary students were able to study, compare and touch them to prepare for their work with living patients. The oldest items in the collection include horse, cow and pig specimens. For example, the collection includes a variety of specimens in formaldehyde to illustrate all kinds of swine epidemics. Pets joined the collection from the 1970s onwards, an expression of the shift in attention from livestock to pets in veterinary practice.

Leading the way in preservation
Over the decades, the Faculty of Veterinary Medicine has developed into a pioneer in transforming carcasses into skeletons. Among other things, it has developed a degreasing process that allows bones to retain their attractive white hue and also has a colony of beetles that remove the flesh from the bones cleanly. The technique was applied to one of the collection's most recent highlights: the skeleton of Leo the finback whale that washed up in the port of Ghent in 2015. In order to study and preserve animal organs, the veterinary department has focused on two techniques: casting and plastination. Both techniques produce pieces that are not only educational but often also fascinating to look at.

Educational function
Many of the objects in the morphology collection still serve a primary educational function today. They are used for research and teaching purposes at the Faculty of Veterinary Medicine. The collection is also frequented by artists, who are inspired by the intrinsic beauty of the specimens.

Leo the finback whale
The most famous inhabitant of this collection is the skeleton of Leo the finback whale. It washed up in the port of Ghent in November 2015 on the bow of a cargo ship. In 2017-2018, the skeleton was displayed in St. Bavo's Cathedral in Ghent during the temporary exhibition 'Out of the Box' on the occasion of Ghent University's 200th anniversary. The GUM's installation combined the skeleton with an audio poem by Peter Verhelst, entitled 'Whale Spotting'.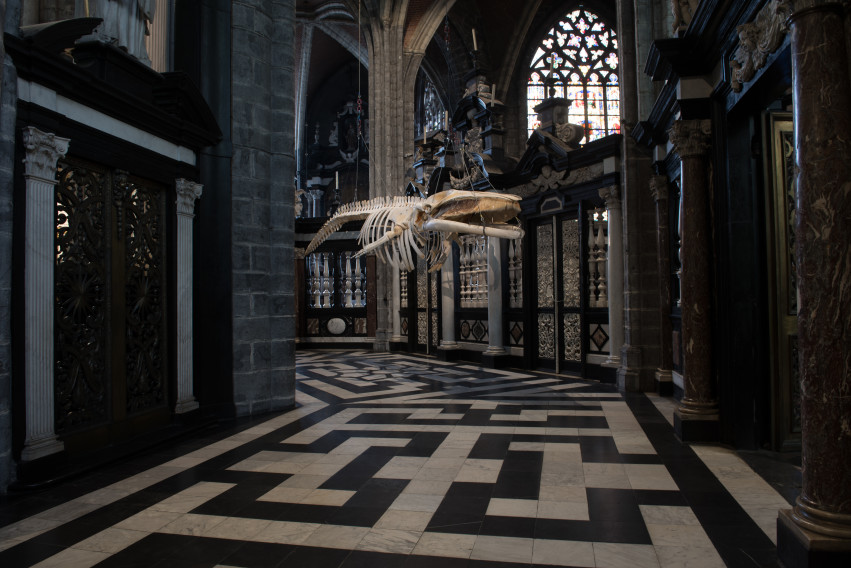 Photos of the collections: Geert Roels
Photo of Leo the finback whale: Myriam Devriendt