Archaeology subcollection
A diverse and valuable collection
The archaeology collection includes a rich collection of objects from Egypt, Greece, Italy, Spain and Germany as well as our own regions. There is even a fabulous treasure trove of bronze jewellery, excavated in Ghent.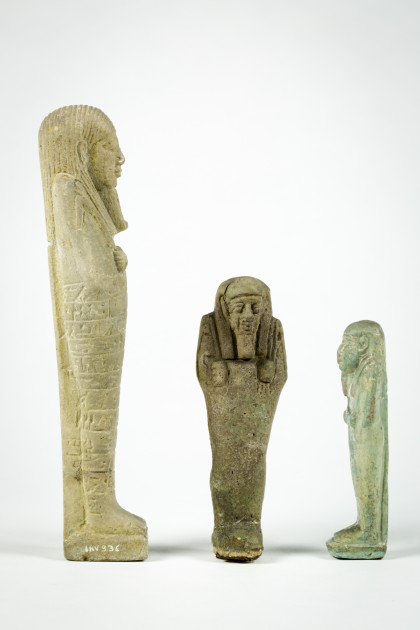 These collections are based on the remarkable collection of Canon Martin-Jean de Bast (1753–1825) and include Greek, Roman and medieval coins and archaeological finds from East and West Flanders. Today, the coins are located in the Coins and Medals Cabinet in the University Library. The first classical Mediterranean items in the collection (Egyptian, Greek, Etruscan and Roman) are largely the result of purchases by the Antwerp Colonel Bernard Rottiers and the shipowner Jean-Baptist De Lescluze from Bruges.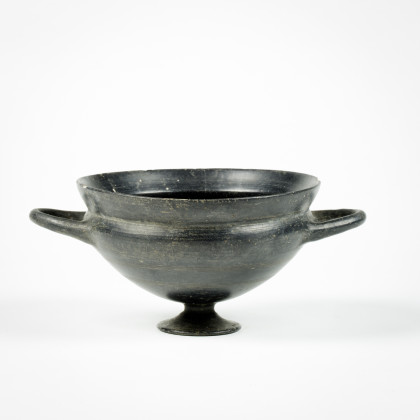 The collection grew steadily throughout the nineteenth century, thanks to the efforts of professors Joseph Roulez and Adolphe De Ceuleneer. Among other things, they contributed an attractive range of black and red figure Greek and Etruscan vases and pottery, beads, stones and bronze objects from the Spanish Bronze Age, known as the Argaric culture (c. 2200-1500 BC). The collection also features a special collection of (bronze) objects from the last phase of the North-West European Bronze Age (c. 1100-750 BC). The treasures of Gent-Port-Arthur, a fabulous hoard of bronze jewellery found during excavations for Ghent harbour dock, are particularly eye-catching. The impressive collection of Merovingian, medieval and post-medieval objects (jewellery, weapons, metal household utensils, dishes, glass, building ceramics, etc.) is less well known.
The second important part of the collection illustrates the archaeological research carried out by the Ghent Department of Archaeology since the 1950s. It includes findings from Hofstade (Gallo-Roman shrine), Blicquy (Gallo-Roman necropolis), Destelbergen (Late Bronze Age necropolis, Gallo-Roman settlement), Sint-Gillis-Waas/Kemzeke (Middle Bronze Age tomb, Iron Age settlement), Verrebroek (Mesolithic settlement), Maldegem (Roman army camp) and Evergem/Kluizendok (various periods), among others. In terms of archaeology in Belgium, this collection is considered one of the most important in the country.
The items are still used in education and research today. Since 2002, the archaeologist Dr Patrick Monsieur has been in charge of this collection. As a co-founder of the GUM, he selected the unique archaeological pieces that you can admire there today.