Welcome inside the head of the scientist
Welcome in the GUM!
Opening weekend 21 & 22 March
On Saturday 21 and Sunday 22 March, the time has come! Then Ghent has a new museum. The GUM (Ghent University Museum) opens its doors in the middle of the Botanical Garden, around the corner from MSKGent and S.M.A.K.
Not just a science museum, but a 'Forum for Science, Doubt & Art'.
Be welcome to a festive and (un)responsible scientific opening weekend!
Come and discover (for free) the new and special museum. Take part in one of the many quite exceptional workshops for young and less young. Be surprised by the artistic performances. And socialize at the food market in the Palmarium of the Botanical Garden.

Opening weekend: Saturday 21 & Sunday 22 March- 10:00 till 18:00
Everyone is very welcome (and free) for MuST SEES, workshops, performances and much more! Discover the program here.
Forum for Science, Doubt & Art
The GUM will be a museum dedicated to science, research and critical thinking, where visitors can discover that scholarship is the result of trial and error, doubt and imagination. The museum will offer insight into the university's unique scientific collections, ranging from the fields of Biology to Ethnography, and from Medicine to Psychology. The visitor will be able to really delve into the scientist's brain. Which challenges does he/she face? And how does that impact our lives and ways of thinking? A museum you can explore, but which will also make you doubt any preconceived notions.
At the new science museum, visitors can discover a highly valuable and exceptional collection covering various disciplines, ranging from Biology to Archaeology, and from Psychology to Medicine. The collection is where the history of science and contemporary research meet, while simultaneously offering a glimpse into the future.
The permanent exhibition allows you to explore seven themes: CHAOS, DOUBT, MODELS, MEASUREMENTS, IMAGINATION, KNOWLEDGE and NETWORK. Together, they make up the backbone of the museum. By way of these themes, you will get a better understanding of how researchers act and think. How do they create order out of chaos? Are they allowed to be doubtful? Why do they rely on models? Can they measure anything? You will also discover how science fits in a broader societal context. How far can you go in order to gather knowledge? Moreover, can people carry out research on their own?
In the campaign you will already discover some of the special stories and objects which you will see in the museum.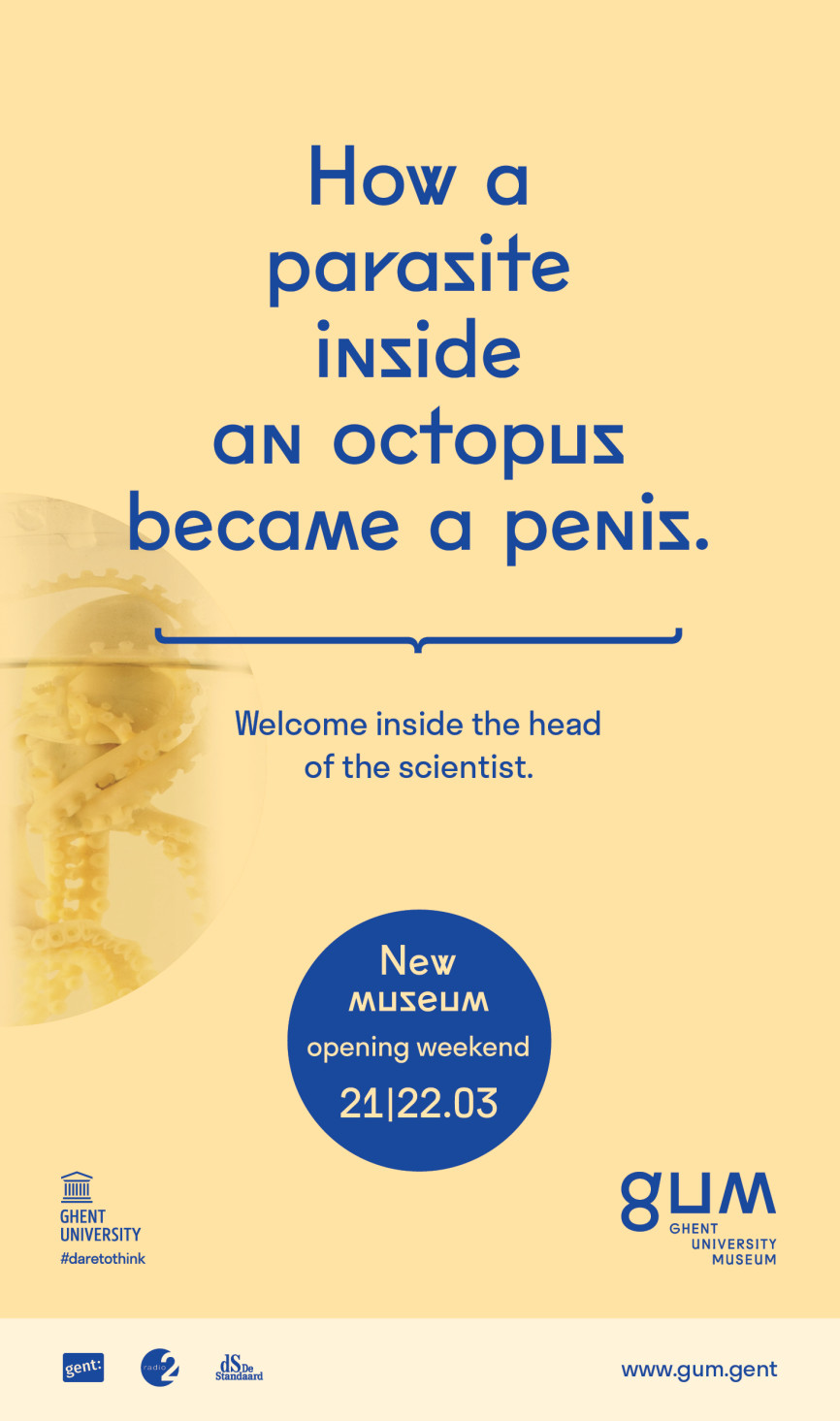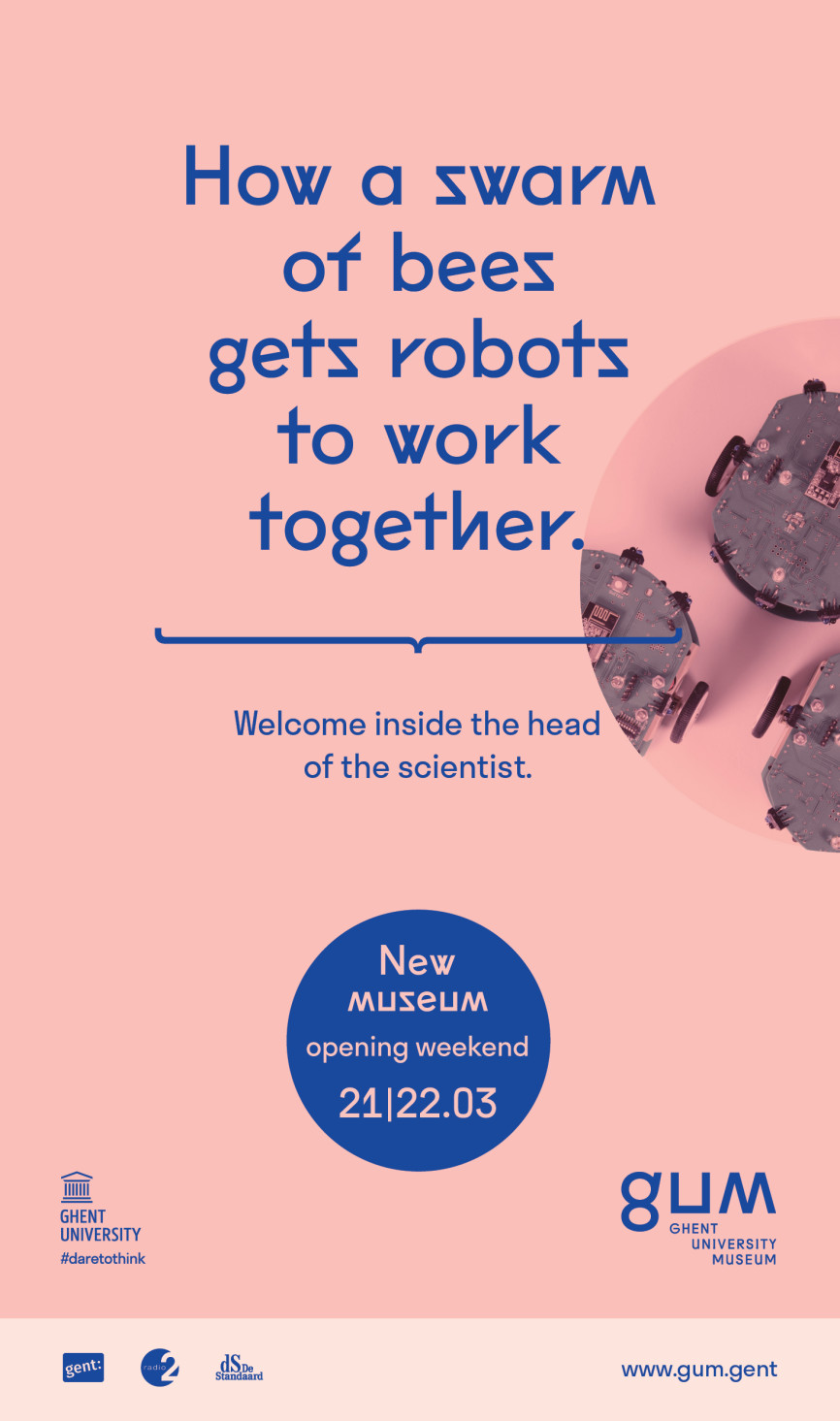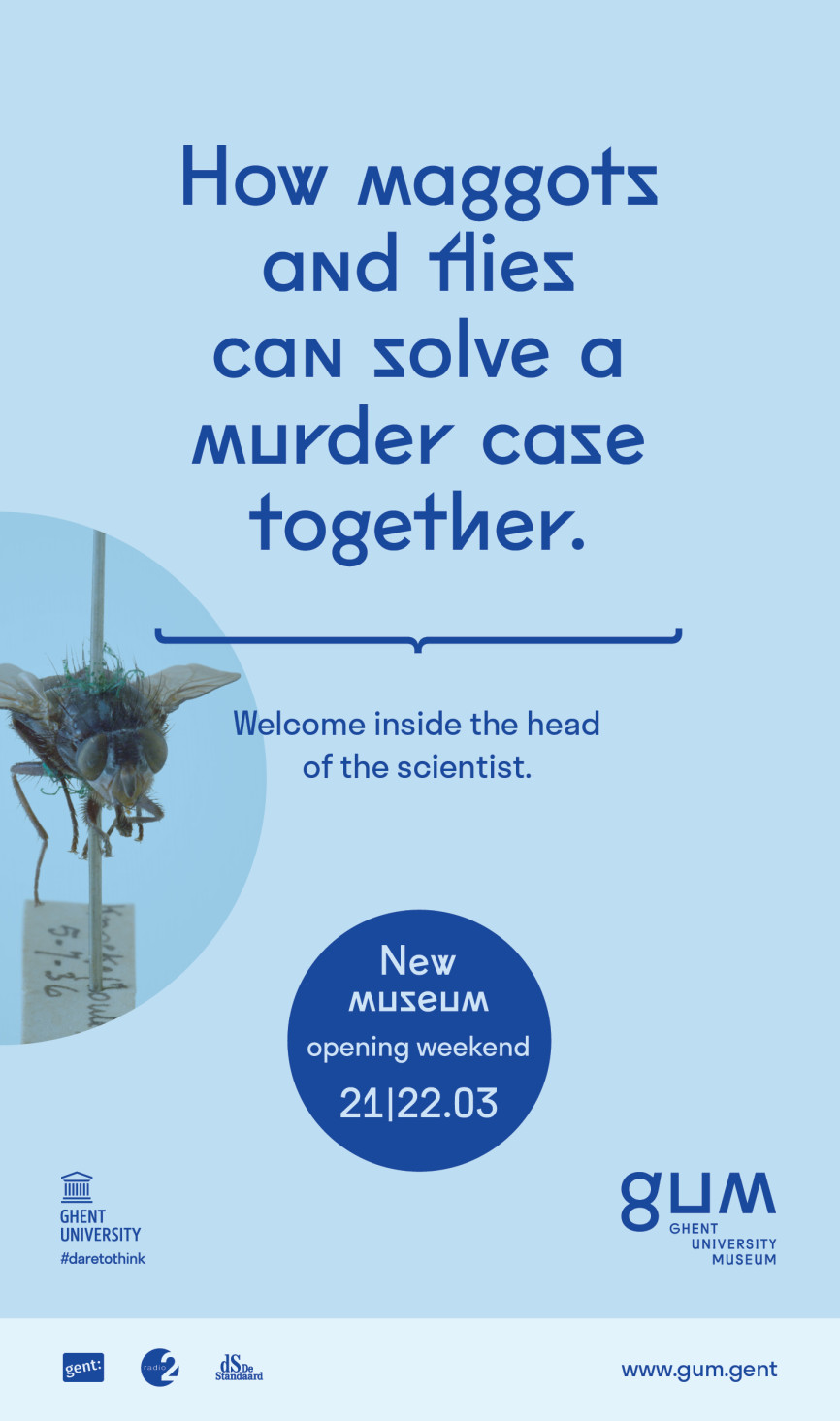 How a parasite inside an octopus became a penis.
In 1829, French biologist Cuvier came across an item inside a female octopus that appeared to be a worm. He reckoned he had discovered a new species of parasite, and named it 'hectocotylus', which literally translates as 'one hundred little bowls'. A few years later, it was discovered to be a mating arm, a kind of tentacle, which the male uses to insert sperm packages into the female's mantle cavity. Should she react in an aggressive manner, the arm could break off and remain inside her body.
How a swarm of bees gets robots to work together.
Some scientific models are direct copies of natural phenomena. Take these little swarm robots, for example: tiny, simple robots that mimic swarm behaviour, which we see in bees. The mini-robots have been programmed to react to one another and exchange information, in order for them to accomplish an assignment as a group. Scientists use them to carry out complex tasks, e.g. searching for natural disaster survivors. In turn, these robots provide us with deeper insights into swarm behaviour in nature.
How maggots and flies can solve a murder case together.
Insects are attracted to decomposing bodies. They approach the bodies in a fixed, predictable order. Some species arrive soon after death; other species will only appear when decomposition is further advanced. You will find the 'Fauna of corpses' in the GUM. The 'Fauna of Corpses', dating back to 1952, groups species of insects together based upon that order. Forensic investigators continue to use this method in order to reconstruct the timing and circumstances of death.