Sometimes you have to start with a blank sheet to come up with new insights
New GUM (Ghent University Museum) publishes empty book and paints well-known graffiti street in city centre completely white.
Snow white. That is what Ghent's iconic Graffiti Street looked like for a while today. Together with Ghent street artists, the GUM (Ghent University Museum) painted this narrow street white, both as a tribute to the blank page and also as a way to launch a special book written by GUM director Marjan Doom, entitled 'Welcome inside the head of the scientist'.
Not just any book, but rather an empty one, including nothing but an introduction.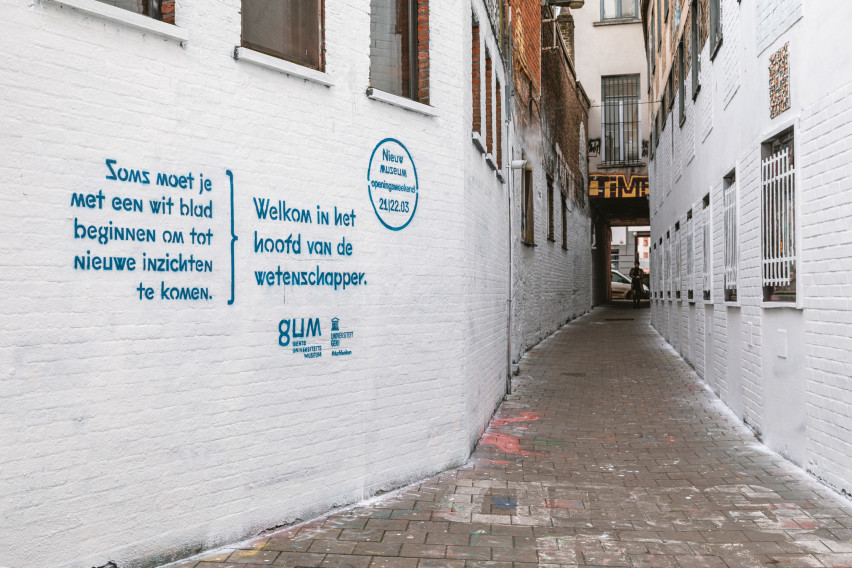 Rik Van de Walle
Rector Ghent University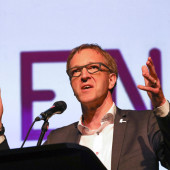 "
Our activities are an invitation to 'dare to think'. Every blank page, every new page, can lead to a new insight. This way, we can move from truth to truth. Soon, everyone can experience this journey in the GUM.
"
Welcome inside the head of the scientist
With the publication of this book and the whitewashed Graffiti Street, the new science museum wants to invite everyone to look at the blank page as a starting point for new ideas, a place to rethink and challenge ideas and maybe even to throw them away afterwards.
Ghent's new science museum, the GUM, focuses on the path travelled by the scientist, thus becoming a unique venue for science, research and critical thinking.
The visitor dives into this journey of trial and error, doubt and imagination.
In short, the visitor is 'Welcome inside the head of the scientist'.
"Science is fragile and that is what makes it so beautiful. In our new museum, you can track the turbulent journey of the scientist. He or she starts with a blank page and finds an answer through trial and error - or not," says Marjan Doom, director of the GUM. "We hope that new ideas and images will quickly find a place in our blank pages and in the Graffiti Street. They, in turn, are the beginning of a new story."
Marjan Doom
Director of the GUM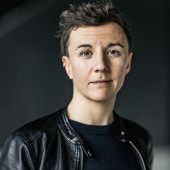 "
The GUM is the 'Dare to Think' idea in the form of a museum. It is a science museum which emphasises the quest for knowledge. Science shown as a creative, ever-evolving and pluralistic concept. We wanted to bring out the beauty of that process. The white Graffiti Street and the blank book seemed to be the perfect way to do that.
(Photo: Sophie Nuytten)
"
In the quest for knowledge, sometimes you have to start with a blank page in order to gain new insights. Just like Pythagoras who, contrary to all of his contemporaries' beliefs, dared to think that the Earth was round. And not a flat disk.
Quotes on the back of the book
Rik Van de Walle, rector UGent:
"This book is an invitation to dare to think. Every new page can lead to a new insight. This way, we can move from truth to truth"
Berlinde De Bruyckere, artist:
"Finally: vulnerability in science on display. Inspirational.""
Frances Morris, director Tate Modern London:
"I can't say this book is a piece of art, but I can say it isn't'. I don't know, in fact. And that's perfectly fine for now."
Peter Verhelst, poet and novelist:
"This book makes you think. While I was reading it, I had actually already started writing"
Sioen, musician:
"A new novel? Ground-breaking musical compositions? A breakthrough for science? Or a shopping list? You can take this book in any direction you want."."
Freek Braeckman, presenter, journalist and newsreader:
"This book walks a fine line between objectivity and subjectivity, journalism and fiction, art and science. And perhaps that is why it is ground-breaking."."
Practical details
On Wednesday 4th March, in the afternoon, a graffiti jam will take place in the Graffiti Street, aiming to bring the blank page to life. At that moment, the entire street will be given back to art and will be covered with drawings and street art in a matter of moments. This graffiti jam is organised in collaboration with Wallin vzw.
The book will be made available to all Flemish schools, university students, the De Krook library, through the Boekenjagers (Book Hunters) and at many other locations.
The opening of the new GUM will be celebrated over the weekend of Saturday 21st and Sunday 22nd March 2020. Everyone is invited.
Follow the Facebook-event and www.gum.gent for updates!