GUM receives 'Special Commendation' during European Museum of the Year Award 2022
Saturday 7 May, the European Museum of the Year Award 2022 took place in Tartu (Estonia). GUM, along with 3 other Belgian museums, was among the nominees. We received a 'Special Commendation'. These are awarden "to museums that were deemed to have developed new and innovative approaches in their public service and which others can learn from".
The words of the jury: "This award goes to an outstanding museum, dedicated to science, art and critical thinking, where visitors are invited to discover that science is born out of doubt and imagination. This museum inspires its visitors to reflect on the plurality of meanings and develop scientific literacy in a fascinating and captivating way."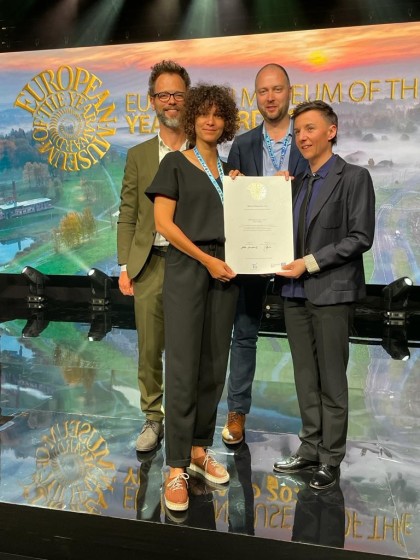 This international recognition for our 'Forum for Science, Doubt & Art' is very special to us. We are happy to share this pride with everyone within the GUM (team, volunteers, tour guides and students) and Ghent University and with all external partners who have made all this possible in recent years with an incredible amount of passion and support. And of course also with our fantastic visitors!
The winner of the European Museum of the Year Award 2022 was the Museum of the Mind in Haarlem.
More information about the winners can be found on the website of the European Museum of the Year Awards.