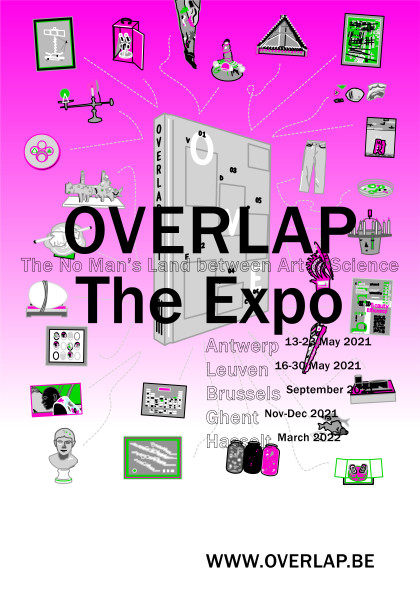 OVERLAP: the No Man's Land between Art & Science
15 Artists & 15 Scientific Objects. Artists and scientists have an unbridled curiosity to understand, explain, and even change the world around us. They share a visionary impulse, the ability to think outside the box and to invent new models that go beyond what we already know.
30.10.2021 - 09.01.2022

GUM - GALLERY

Part of your museum visit
After the book 'OVERLAP: the No Man's Land between Art & Science', the Young Academy presents a travelling exhibition. Once again, the field in which art and science intersect is explored in a unique concept. A selection of 15 artists from the book and the Young Academy are brought into dialogue with 15 scientific objects from the museum collections of the UGent (GUM) and the KU Leuven. Indeed, science and the material results of scientific research can also be aesthetic and their philosophical or poetic quality is often undervalued. What if we were to approach academic heritage objects as art? And what if we focused on the analytical or epistemological potential of a work of art?
Participating artists: Nicolas Baeyens, Ann Bessemans, Louis De Cordier / Cosco, Katelijne De Corte, Ugo Dehaes, Annelys de Vet, Kasper De Vos, Lodewijk Heylen, Robbert&Frank Frank&Robbert, Athar Jaber, Christina Stuhlberger, Kevin Trappeniers, Karel Verhoeven, Karen Vermeren, Dirk Zoete
'OVERLAP: The expo' is a project of the Young Academy, in cooperation with GUM (UGent), ARIA (UAntwerp), the Royal Academy and Sint Lucas Antwerp, BAC ART LAB (KU Leuven), PILAR (VUB) and Hogeschool PXL Hasselt.

Concept by Frank Merkx, in collaboration with Marjan Doom (selection of scientific objects, Nele Wynants, Ann Bessemans, Nicolas Baeyens and Kevin Trappeniers (members of the Young Academy's art and science working group).

Special thanks to: Frederik De Wilde, Niel Hens, Sarah Lebeer, Tine Scheijnen, Bert Seghers, Lien Verpoest, Geert Vanpaemel, Nathalie Poot, Fausto Fazzari, Valerie Baeyens, Ine Engels