Opening month GUM - Sunday 4 October
Welcome inside the head of the scientist
Yes: the wait is over! At long last, the GUM (Ghent University Museum) will open its doors to the pubic with a completely corona-proof opening month, starting 3 October and concluding 31 October. Delve into the programme and discover how you and those in your personal bubble can choose from a wide range of (free) customised packages. You can, for instance, combine a visit to the brand-new science museum with one of the original workshops, artistic performances and much more. You can even pay a free visit to the GUM on weekdays (except for Wednesdays). So, go ahead and book your tickets, as availability is limited. Below you can find out what's on Sunday 4 October. Should your preferred menu no longer be available, please have a look at what's on offer on other days. You might just be able to find an open spot!

Below you can explore the menus and à la carte activities on Sunday 4 October. All of these activities are free. We therefore encourage everyone to show up if you have booked a spot.
By clicking this link, you can find out more about the GUM's opening month' entire programme.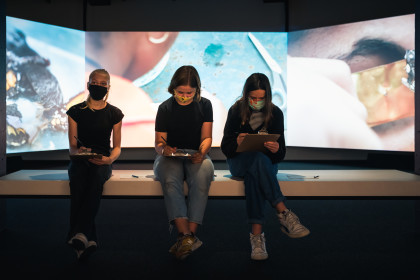 What?

1.5-hour museum visit

For whom?

Open to visitors of all ages

Although its name might suggest otherwise, our BASIC MENU is not actually that 'basic'. Apart from a visit to the brand-new museum, you will also be able to experience the surprising atmosphere and artistic peripheral activities. What is more: You can spice up your visit with one of the free à la carte activities. Why not, for instance, pay a visit to the tropical greenhouse or get a unique GUM inspired art & science tattoo?

When?

You can kick off your visit every 30 minutes between 10.30 AM and 5 PM.
EXPERIENCE I MENU – Graffiti workshop with Wallin'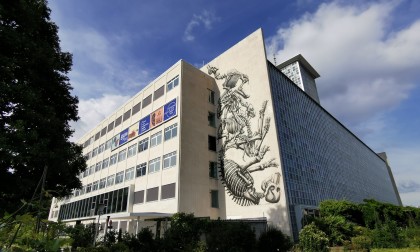 What?

1.5-hour museum visit + 1-hour workshop

For whom?

Open to all visitors ages 10 and up

For the first 1.5 hours, you will be able explore the museum and get a taste of this new 'Forum for Science, Doubt & Art'. After that inspirational experience, we invite you to give full rein to your creativity in the following hour during an artistic workshop organised by street artist collective Wallin'.

ROA once again demonstrated how science and art go hand in hand with his spectacular mural on the GUM's facade. We offer you the opportunity to follow in ROA's footsteps. Anything that struck you during your museum visit, can serve as a source of inspiration. And, you must admit… doesn't that rather impressive pile of skeletons make you dream of creating your own anatomical masterpiece?
When?
Starts at 10 AM, 11.30 AM, 1 PM, 2.30 PM and 4 PM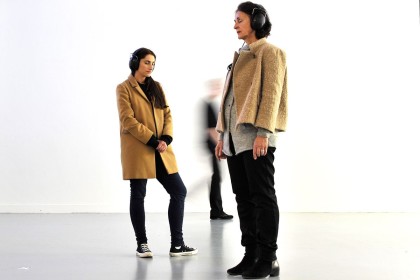 What?

1.5 hour museum visit + 0.5 hour immersive art experience

For whom?

Open to anyone who is curious about this new museum and, afterwards, wants to step into a world where art and science meet.

For the first 1.5 hours, you are able to explore the museum – plenty of time to get a taste of this new 'Forum for Science, Doubt & Art'.

The GUM welcomes you 'inside the head of the scientist'. But what goes on inside YOUR mind after a visit to our museum? The interactive 'imagining composition' created by conceptual sound artist Roel Heremans digs deep for feelings and experiences. A voice guides you through the entire process. Which memories lead to new ideas?

"In the next minute you will see and feel things you already have. It is essential that you concentrate, for it is you that will make the images."
When?

Starts every 30 minutes, from 10 AM to 4.30 PM
VAN EYCK MENU – including visit to artist's studio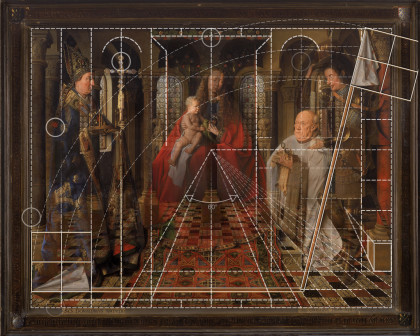 What?
1.5 hour museum visit + visit to artist studio Lieven Lefere (Lindenlei ,Ghent)

For whom?

Open to visitors of all ages
For 1.5 hours, you will be able to explore the museum and get a taste of this new 'Forum for Science, Doubt & Art', as well as the pop-up exhibition Van Eyck in depth. Friction and harmony through the eyes of architects and artists.
Your admission ticket also gives you entry to Lieven Lefere's artist studio at NUCLEO (Lindenlei, Ghent).
Can you actually visit a place that does not exist? After entering the studio, you will be able to explore a real, three-dimensional yet completely imaginary space, based on the architecture featured in The Madonna with Canon Van der Paele. Realising the photographs on display in the pop-up exhibit Van Eyck in depth were modelled on this simulacrum is a total mind bender.
When

Visit to the GUM: starts every hour, between 10 AM and 4 PM

Visit to artist's studio is possible on 4 ,10, 11, 18, 24, and 25 October
TROPICAL GREENHOUSE VISIT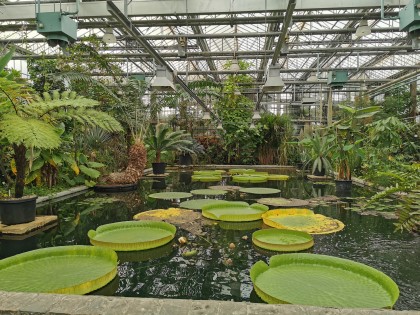 Whoever claimed a staycation can't be tropical, has never paid a visit to the Botanical Garden's greenhouses. In the Victoria greenhouse you can see how coffee, cacao and papayas grow right from the trees! If you're lucky, you can even witness bananas ripen. And forget about those scented sticks and fragrance diffusers! In the subtropical greenhouse, a wide range of Mediterranean essential oils will go straight to your head. Do you never feel too hot or too dry? Then why not take refuge in the succulents' greenhouse? Surrounded by cacti and succulent plants you can imagine being someplace far from Ghent.
When?
Starts every thirty minutes from 10 AM to 5 PM
A pencil and an eraser. That's all these illustrators need in order to turn the most beautiful and outrageous ideas or images into reality. In this particular case, they will actually pass over the usual sheets of paper and, instead, use parts of your skin as their canvas. You could be one of just 20 lucky people a day who is able to go home sporting a unique tattoo. We bet you'll wish it'll never come off…
Today's artist is illustrator Penelope Deltour, famous for – among other things – her gorgeous whales, but you might also recognise her from Iedereen Beroemd.
When?

Starts every fifteen minutes, between 10 AM and 5.45 PM
At the top of this page, you can change your language preference. On the Dutch-language website, you can discover a number of menus that are only available in Dutch.
Photographs: Karin Borghouts – Martin Corlazolli - Paul McGee
Illustration 'Van Eyck in depth': Musea Brugge, www.lukasweb.be – Art in Flanders, photograph Hugo Maertens, Digitek.