ROA completes impressive mural in Ghent
This Tuesday, internationally praised street artist ROA finished his masterpiece on the façade of the GUM (Ghent University Museum). The brand-new science museum now acts as a canvas for a magnificent pile of skeletons, including that of an elephant, a rhinoceros, a grizzly bear and an okapi. In this piece of art, ROA once again demonstrates his love for animal anatomy, which is a regularly reoccurring theme in his work. For this particular piece, he drew inspiration from the GUM's exceptional collections and stories. The unveiling of this unique work of art is accompanied by an announcement concerning the museum's long-awaited opening: the GUM will finally open its doors during a festive 'coronavirus-proof' opening month in October.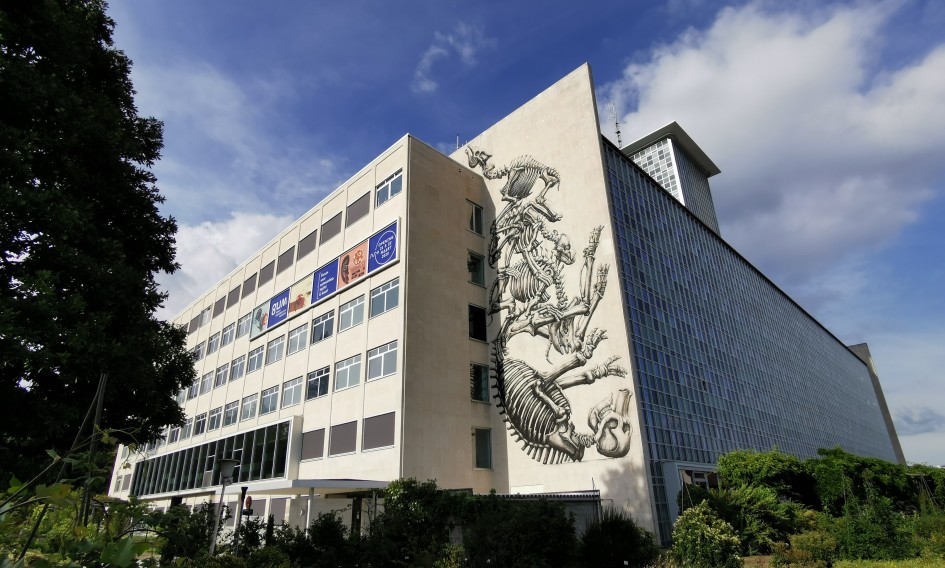 290 m² skeletons
The GUM is located in the heart of the city of Ghent, ROA's place of birth, and an important part of the natural history collections are hidden in the depositories underneath the museum. Therefore, ROA was able to find his source of inspiration literally just a few metres from his artwork. ROA is known for his impressive black-and-white wall paintings featuring animals, with or without skin, fur or hair. His work can be seen all over the world and he is counted among the very best contemporary street artists.
This work of art, which is spread out over about 290 m2 of museum wall, is set to become a genuine hot spot for fans of street art from every part of the world as well as a showpiece for the brand-new GUM, which, by featuring ROA's work, truly lives up to its title 'Forum for Science, Doubt & Art'.
Enjoy this amazing mini documentary created by Ranto.
GUM celebrates (belated & coronavirus-proof) opening during month of October
The GUM (Ghent University Museum) was set to celebrate its opening at the end of March. Thousands of visitors were expected to join the celebrations. The coronavirus, however, prevented the opening to proceed as planned. Today, the GUM and Ghent University are proud to announce that the brand-new science museum, a 'Forum for Science, Doubt and Art', will finally open its doors in October, with a month-long and coronavirus-proof celebration. The full programme, including free admission to the all-new museum, workshops, performances and much more will be launched online in early September. Access will only be granted provided online reservations were made. The GUM's opening month will also have an online component.

More information about the GUM's opening month can be found on www.gum.gent.

The Botanical Garden will re-open on 6 July (please register here). The streets near the GUM allow passers-by to catch a glimpse of parts of the mural. Inside the Botanical Garden, however, visitors can enjoy a unique view of the entire masterpiece.
Practical information
All work was carried out on the right-hand side of the GUM's façade at Campus Ledeganck, in the centre of the Botanical Garden. The wall covers about 290 m2. This project was a collaboration with Ghent-based non-profit organisation Wallin, which aims to create new opportunities for street artists. Wallin has already developed various projects both in and outside of Ghent, one of which being the GUM's Graffiti Street project in early March.
The work was carried out using a hydraulic lift and the mural was painted directly onto the wall.