Artistic anatomy and plumbing appears in the greenhouses of the Botanical Garden
Those who visit the greenhouses of the Botanical Garden from Thursday 7 January will discover two impressive fountains in the pond of the Victoria Greenhouse. This is an installation by artist Nicolas Deshayes as part of 'RESERVOIR', a project of 019 in Ghent, which converted its exhibition space at DOK Noord into an artistic swamp.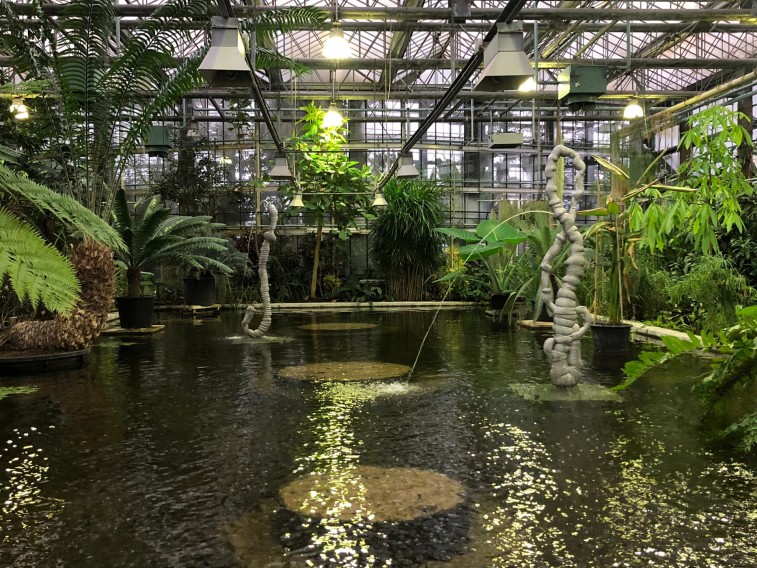 Part of your visit to the greenhouses- free with reservation
Nicolas Deshayes 'Cuckold's Point & Gossip Column' / 2018, Cast aluminium, stainless steel and water.
Nicolas Deshayes (France,°1983) lives and works in London (UK). He uses industrial materials and processes to create bulbous and suggestive bodily forms. For this installation in the Botanical Garden he has developed his ongoing series of sculptures in expanding foam, a material most commonly used for buoyancy in shipbuilding, He uses it to create forms that hint at anatomy or plumbing systems.
(Courtesy Stuart Shave/Modern art, London, Copyright the Artist.)
For the exhibition RESERVOIR, 019 presents 3 sculptures by Nicolas Deshayes in Gent.
Two works can be seen in the Victoria Greenhouse of the Botanical Garden and are a satellite installation of the RESERVOIR ecosystem developed by 019 in their exhibition location at Dok-Noord in Ghent.
From September 2020 onwards 019 shedded its roof. Relentless rain floods the building¹. What was once an exhibition space, becomes a knee-high morass; the floor submerged and overgrown. The former welding factory, turned artist-run space will now double as a public wetland and water treatment plant.
Hydrophytes, rain, artworks, visitors and installations become submerged in the damp atmosphere and form moist alliances.
019 grows into an ecosystem, in which the different organisms and the environment are one functioning structure in a constant flux.

019 becomes a plant.
The swamp works – to welcome visitors, to educate on botany, to purify water from the canal. It collects aquatic rituals and creates new ones.As a humid public park, it is a place that functions both as an unlikely² intervention in the urbanized, hardened surroundings, and, at the same time, as an extension of the canal next to it. Its borders are fluid. It blurs what is in- and outside. What's artificial and natural, exotic and native, become superfluous distinctions.
In the end, it pours down on everything and everyone.

A guide leads visitors along black alders, installations, fountains, gargoyles, pumps, sculptures, sedge, videoworks, sweet rush…
An umbrella is strongly recommended. Rent or buy one at the entrance to keep yourself dry and support the project.
Fishing is only allowed with a permit.
¹ A complex system negotiating between meteorology and mechanics, clouds, pumps and vaporizers will drive a constant downpour.

² Although the creation of a park in an urbanized surrounding is a proven method to increase the real estate prices in an area.
With contributions by:
Agnieszka Kurant, Andrea Carlson & Rozalinda Borcila & Heid E. Erdrich (Ojibwe), Bert Villa, Emi Kodama, Helmut Smits, Jessica Warboys, Kåre Frang, Leon De Bruijne, Lois Weinberger, Manoela Medeiros, Mathew Kneebone, Maximilian Schubert, Nicolas Deshayes, Nina Canell, Olga D'haene, Olivier Goethals, Sharon Van Overmeiren, Paul Barsch & Tilman Hornig (only on view from March onwards), Tom Van Hee, Tom Volkaert & Zoro Feigl.
Photo 019: Michiel De Cleene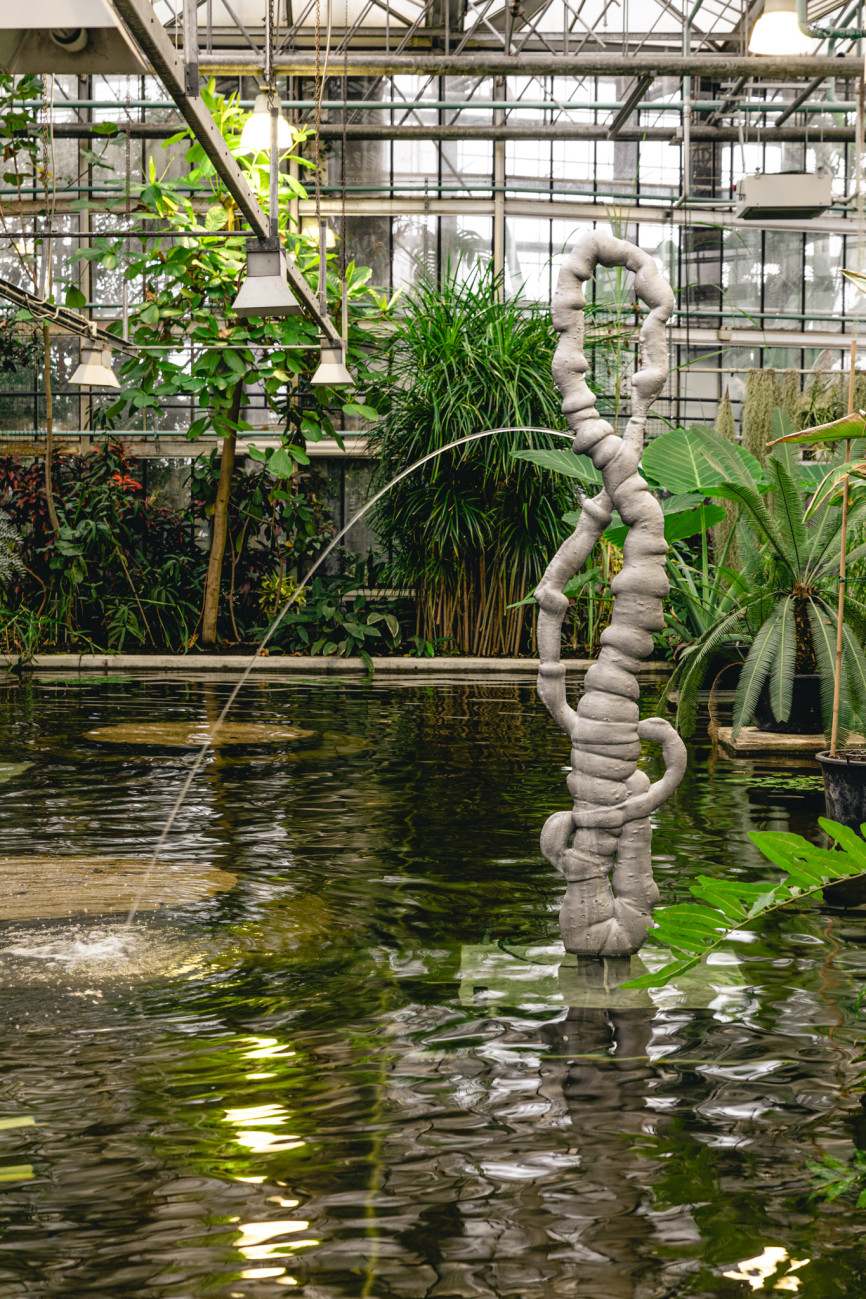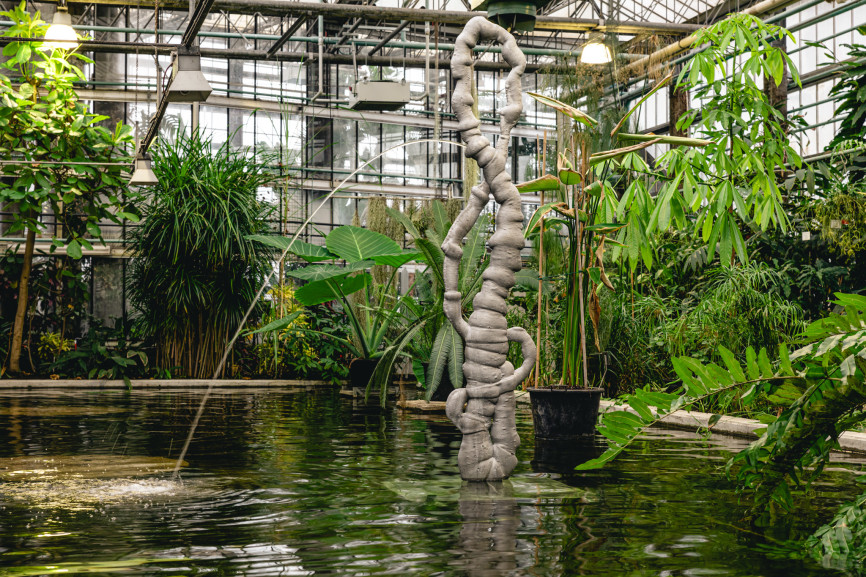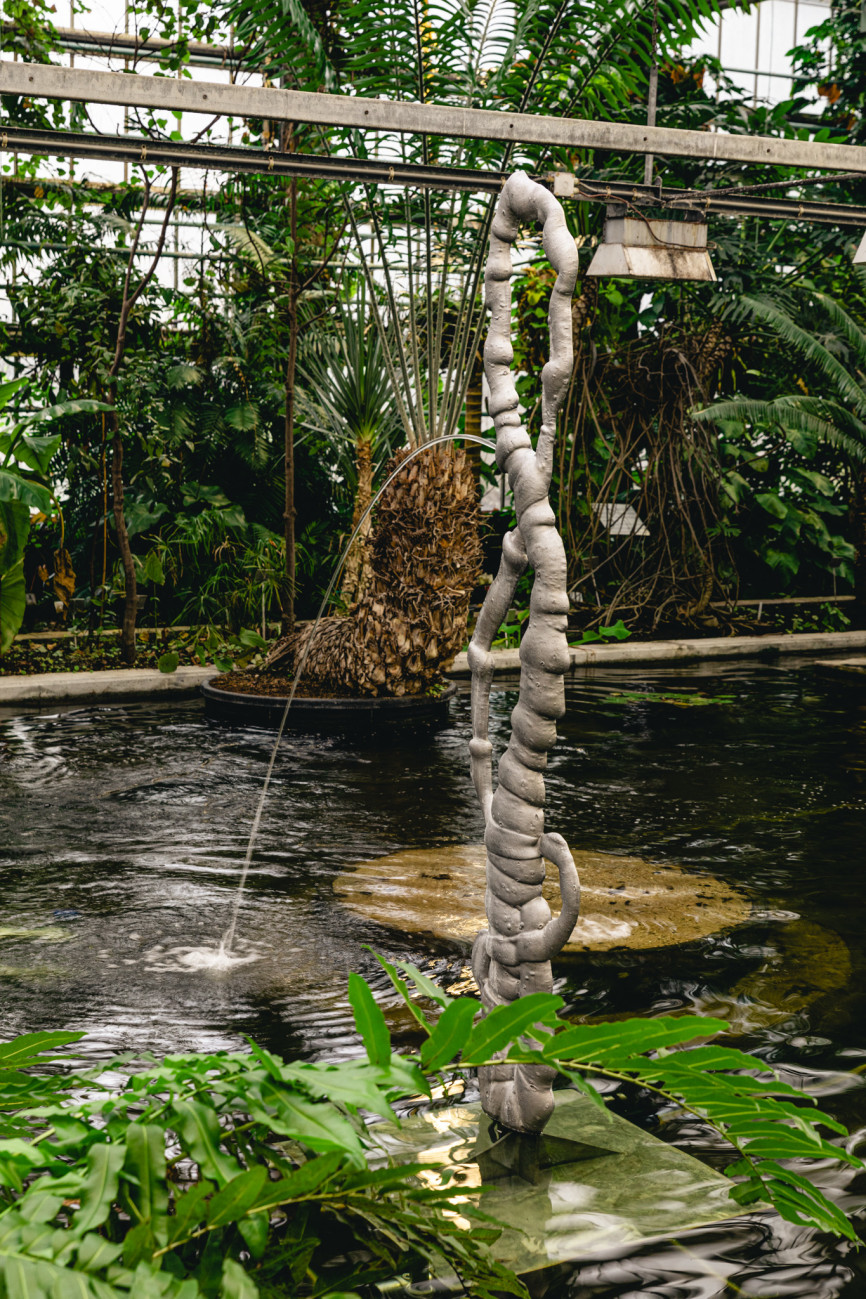 Installation Botanical Garden:
Nicolas Deshayes 'Cuckold's Point & Gossip Column' / 2018, Gegoten aluminium, roestvrij staal en water.
Photo's: Michiel Devijver