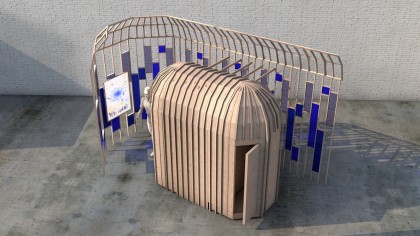 RUMOR // Unfolding Futures - playField
From 14 September to December 7 2023 you will find the artistic installation RUMOR // Unfolding Futures in the GUM GALLERY. Art collective playField distils in this installation a collective future from a compilation of individual dreams. Visitors are invited to imagine their best possible future and record it in an interactive audio experience. All contributions are continuously pieced together by artificial intelligence – which lies at the very core of RUMOR.
The installation is a new step in playField's research process into the frictions between the different future perspectives in a society. This research took place during a GUM-Residence of the art collective last year.
14 September to 7 December 2023

GUM GALLERY - part of your museum visit
In this installation, playField is seeking to rediscover the collective within our increasingly individualistic society. Does individual desire still have a place within the collective dream? Or should concessions be made here and there?
RUMOR asks whether artificial intelligence can offer an alternative to our current democratic system. Can AI be used to curb polarisation? Are we evolving towards a democracy 2.0, with AI close at hand?
This project is rooted in the idea that a vision of a different future world clashes with our current one. A dream for what is yet to come also heralds change. And where difference is lurking, there is friction. What if it turns out that one person's dream is another person's nightmare?
Inside RUMOR, visitors are guided towards a vision of positive change and encouraged to put this vision into words, giving it greater existential legitimacy. Afterwards, visitors can access the collective dream in an interactive 3D environment. What does it sound like? Where does this dream clash with the future we consider to be most likely? What are we willing to do to change our course?
RUMOR is an AI installation that converts recorded dreams of the future from speech to text. The recordings are deleted afterwards, and all wishful desires remain anonymous.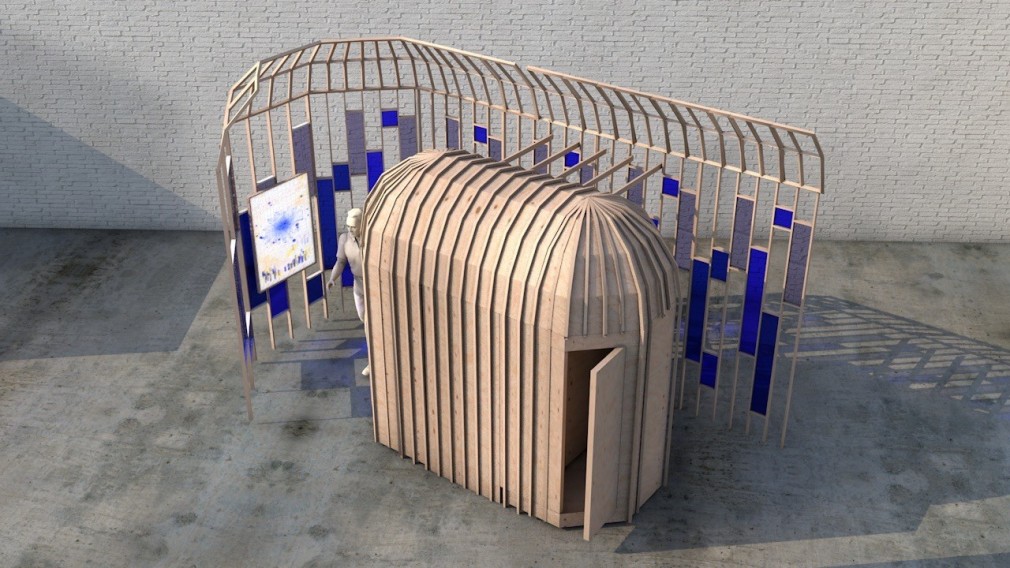 RUMOR // Unfolding Futures is part of the A.R.C. (A Real Catastrophe) in which works are made in the public space of the city and the viewer is invited to take a look at a new social structure. In RUMOR, the arts, sciences and citizens meet in co-creation. playField forms the bridge that brings all parties together.

A playField production.
Concept and creation: Lana Schneider, Marthe Schneider and Tim De Paepe.
Production: Marthe Schneider and Kelly Vermeiren.
Scenography: Lana Schneider.
Text: Marthe Schneider and Lana Schneider.
Voice: Marthe Schneider. Audio: Lana Schneider and Ella Jacobs.
Interactive 3D environment: Lana Schneider, Helena Yankson and Jannes Lambrecht.
Software: Tim De Paepe and Brainjar.
Decor: NTGent and GramCnC.
Communication and public relations: Yasmin Van 'tveld.
Graphic design promo images: Pjotr.
Co-production: Arenberg, Cultura Nova, GUM (Ghent University Museum) and VIERNULVIER.
In collaboration with: Arenberg, Brainjar, Cultura Nova, GUM (Ghent University Museum), Het Huis Utrecht, iMAL, KAAP and VIERNULVIER.
With the support of the Flemish government, Fonds Podiumkunsten Nederland (FPK) and the city of Ghent.
With thanks to Artevelde Hogeschool, Ellen De Vos, Jan Everaert, Jelle Vercalsteren, Tom Vermeulen, Ghent University and Urgent.fm.